10-5-08 – Brugges to Paris
Today we make sure we are in the dining room at 8:30 to get a jump on our drive into Paris. Kristen once again provides an elegant breakfast, same as yesterday except a different selection of meats and cheeses and she treated us with a small tray of Belgium chocolate bars and nougats. All of our B&B days of being spoiled, piggy breakfasts, come to an end today. We know we buy breakfast on our own from patisseries in Paris - awwww poor us, hehe!
We check out and profusely thank Kristin for the wonderful stay, she truly made it memorable. So far, we both count Brugges as one of our favorite towns we have visited.
We leave Belgium behind and in no time the signs say we're back in France, 3 times. Bon Jour and Bienvenue!
But wait, there it is, YES, PARIS HERE WE COME!!!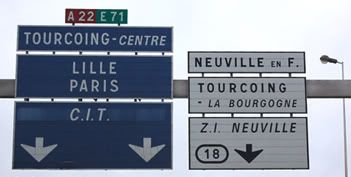 Today is a bittersweet day. After the 3 ½ hour highway/toll drive into Paris Charles de Gualle airport, we say goodbye to our little car. We enjoyed everything about it – it drove great, got 55 miles to the gallon, roomy, held all our luggage and other stuff like food and water we stored in the back seat. Drove up to the car return, signed some papers, and got a courtesy ride into the airport RER train station . . . to PARIS . . . YIPPEE, so happy to be going back to Paris!!!
We bought our 5 day metro pass for unlimited use of Paris transportation. Hopped the next train for the 35 min ride, changing metro stations twice to finally arrive at our hotel at 2pm. Oye, I've forgotten how many stairs are in the metro stations, it's a killer when you're juggling luggage and have sucky, bad lungs.
It is raining off and on, but we still decide to venture out after checking in. We grab a baguette sandwich to share and hop back on the metro to the Pompidou Center, the modern art museum. Now, Terry and I have been to some pretty fantastic modern art museums like the MOMA in NYC, the New Pintheotek in Munich, and the Tate Modern in London. But the art in the Pompidou was so bizarre, we just didn't get it. We walked around one whole floor and looked at each other and said, "let's go, we'd rather see the streets of Paris." Plus the museum was way too crowded, it was free admission Sunday.
The front of the Pompidou Center
The animated art in the fountain outside, which was quite fun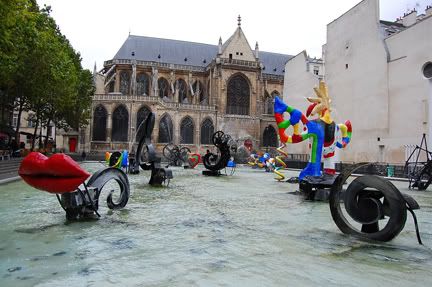 Rain or not, out we went, back to wander the Rue Cler neighborhood where we are staying. We checked out the restos along the way, heading toward the Eiffel Tower. We turned a corner and there it was, peeking out from the trees, just blocks from our hotel. Awwwww, nothing says Paris better than seeing the Eiffel, I never get tired of just sitting and looking at it, taking tons of photos. The rain starts again and we choose a different walk back to our hotel to settle in until dinner.
Today's photos
At 6pm we walk back down to the Rue Cler to eat at Tribeca. Terry got a large musroom pizza, me roasted chicken, mashed potato and salad, pretty good. Back to the room to rest up for a long day tomorrow – Disneyland Paris!