10-4-08 Brugges
No alarm this morning, we decided to get up when we get up. But after flopping in bed early, of course we are up before 7am. So far no rain, but cloudy skies. We descend the steep stairs to the dining room for breakfast. We chat with the nice couple from Vancouver Canada we met briefly yesterday. Their son, DIL and Grandson Leo who live in nearby Rotterdam, Netherlands also soon followed to join us for breakfast.
Kristin came into the dining room with fancy little bowls of yogurt and fruit. Terry ordered hot chocolate and me coffee. Kristin then asked who wanted an omelette, of course we all enthusiastically said, "Yes!" She brought out large baskets of wonderful breads, croissants & homemade jams and a platter of assorted meats and cheeses. Our table looked like it was prepared by a French chef – tiny beautiful flowers adorned all the trays, the food artistically arranged with sprigs of chives and greenery. It looked too good to eat. Then our heart shaped omelettes arrived, made with onions, sweet peppers, cheese and herbs – warm and delicious! We all stuffed ourselves as we enjoyed the conversation, breakfast was just perfect.
Our wonderful breakfast - Ha Ha!
Just had to take photos, with permission from Kristin, of course.
We venture outside for a full day of sightseeing, excited to see patches of blue sky after 4 days of rain. We just began wandering, following Rick Steve's town walk. Brugges is so quaint and post card pretty, picture perfect.
Every corner of cobbled streets revealed fantastic views of Belgian/Flemish architecture and canals filled with boats. The squares bulge at the seams with cafes and restos. The horse carriages clipity-clop down the streets, full of takers today. Boat cruises sailed through the canals and under bridges filled with photo happy tourists. Patisseries and Belgium chocolatiers are numerous. We stopped in one famous chocolatier named Damon and each picked out our own 16 piece assorted box - hmmmmm. We continued walking all the streets, not wanting to miss a thing, sampling our melt-in-your-mouth chocolates.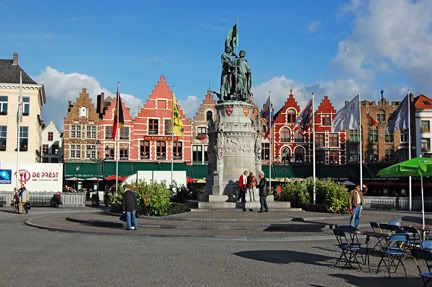 At lunch, we ducked into a small sandwichery café and shared a baguette sandwich and oh-so-good Belgian fries. Mayo, instead of ketchup, is the fry dipping sauce of choice in Belgium. Breakfast was so filling, a shared lunch was just enough. We headed toward the city walls to see the old windmill park that lines the moat canal just outside the walls. There are only four windmills left, some in need of some repair, but fun to see them up close.
Terry with one of the windmills . . . . . and . . . . . A lighted corner niche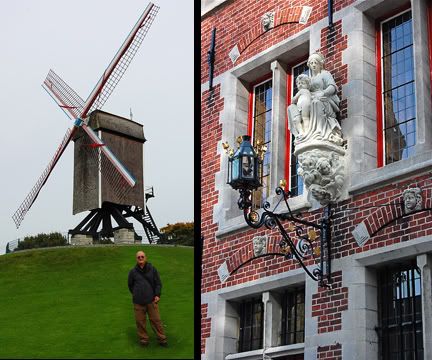 We entered back into the walls and strolled through the oldest neighborhood of what looked like, at one time, very exclusive homes that lined a very large canal. Many were undergoing renovations and restorations to return them to their original condition. Many had already been done and were beautiful, with their original built date proudly plastered out front, many from the early 1700s. Several of the homes had lighted corner niches with a praying saint, always facing the canal, giving the sailors a lighted safe, journey up the canal. Long ago, this large canal was the inlet for sailors coming in from the North Sea, delivering goods to Brugges and towns further inland. Brugges was a large port city, completely walled around for safety.
We followed the large canal all the way back to the original, old center of town and main square. I noticed a chocolatier across the street with large, spinning displays of chocolate, sure got my attention. I pulled Terry and said I have to go into that shop. Whoa, glad we did, best chocolate shop we had seen so far, plus they had all kinds of other candy as well. We bought a few Belgium chocolate bars and some homemade truffles that were to die for. We made our way back to the room, carrying our prized chocolate booty like it was gold, LOL!
Photos from today
By this time, it was nearly 6:00, we had walked the whole town of Brugges for 8 hours. We walked back to the B&B and waited for the resto across the street to open at 6:30, looking forward to our anticipated meal. The nice young waiter reserved the same window table for us and he told us the specials for tonight. We both decided on the local Flemish meal of roast beef, potatoes and carrots simmered all day in beer, with the same veggie soup starter – mmmmmm. We just loved this little resto, the food, atmosphere and proximity to the B&B, we just couldn't beat it anywhere.
A full day of sightseeing in a gorgeous town, perfect weather, excellent food and munchies, and sleeping in a great B&B - the best day of our trip so far!