Bonjour et bienvenue!
Yeah, another trip planned soon to be scratched off the bucket list!


Terry & I have always wanted to wander around the French countrysides. Seeing so many wonderful sights while watching the Tour de France for years has cemented our desires. Our meandering on our 2004 Germany, Austria, Switzerland countrysides trip far exceeded our expectations, so France it is. We also decided to include a few days in both Belgium and the Netherlands, extending the trip a few more days, but we feel it will be worth it.

After many months of reading, internet surfing, researching, and lots of give and take negotiations, we agreed upon a route we can live with. A lot of the sights are centered around WW2 sights, because yeah, the German's bombed the heck out of France. So many memorials, towns, and museums still reflect that sad time in France's history.


The Plan:

Travel September 15th to October 8th.
Fly in and out of Paris.
Map itinerary of where we plan to go: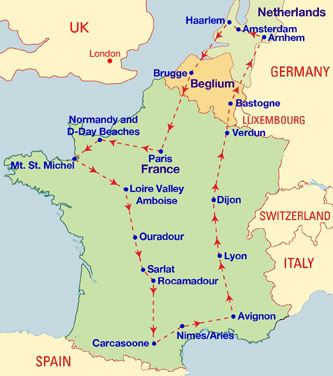 Getting around:

Whenever we drive in Europe, we have discovered leasing a new car is the way to go. Short term, guaranteed buy back leasing is a tax free French program through either Peugeot or Renault designed specifically for non European members traveling more than 17 days in Europe. Yes, we technically own the car while there.

The price is usually cheaper than renting, you get a brand spanking new car waiting at the airport, no 21% VAT tax added, 24/7 roadside assitance, and 100%, 0 deductible insurance included in the price. We chose car leasing over rental on our last driving trip and WOW, were we happy! We loved our little car so much the last time, that we reserved the same exact car - a Peugeot 207 Diesel.


We are cheating this time, not using road atlas maps, but rather our hand held GPS. We bought a program that covers all of Europe, and have plugged in all of the B&B addresses, sights, towns, etc. We hope it will work as well as when we used it to drive across our country in 2005. It is definitely a time saver not getting lost in the sometimes confusing European cities.


Day to day plans:



Sept. 15 - Sept. 16 - Overnight flight from LAX to Paris


We land in Paris, pick up our car at Charles de Gaulle airport. Leave the Paris suburbs, head NW towards Normandy and the D-Day beaches. Stop in Caen along the way to visit the Caen Memorial Museum with a special exhibit honoring 9-11.
We're staying at Ferme de la Rosiere B&B just outside the small town of Bayeux. I'm sure we will be exhausted, but we may stroll around the town for a bit to shake off the jet lag until bed time.




Sept. 17th - night in Bayeux, Normandy


We have an all day 'American Highlights D-Day tour' reserved through Battlebus.
There is no better way to grasp an understanding of what really happened on those terrible days than to have a first hand, visual account explained in a private tour.



Sept. 18 - night in Bayeux, Normandy


Free day to explore the whole Normandy area, Arromanches Beach and museum, and anything we missed on the tour. Visit more of Bayeux.



Sept 19 - night near Mt. St. Michel


Leave early to drive to Mt. St. Michel, the medieval Benedictine Abbey perched on a rocky island. We will spend all day exploring the Abbey, narrow streets and buildings.
We are staying at the beautiful, rural Les Vieilles Digues B&B, a few miles up the road from Mt. St. Michel.





Sept 20, Sept 21, Sept 22 - nights in Amboise, Loire Valley


Drive SE to the Loire Valley, famed for the noble, aristocratic, elaborate chateaus that grace the rivers and valleys. Our home base for the next 3 days & nights will be in the picturesque town of Amboise .
Our B&B, Chez Briault B&B is just outside of town in a rural neighborhood.

The next 3 days we will wander the Loire Valley region, hoping to visit the following chateaus:
Chateau d'Amboise
Château de Chenonceau
Château de Montsoreau
Château de Chambord
Château de la Belle au bois dormant
Château de Cheverny
Chaumont sur Loire
Chateau de Chinon



Sept 23 - night in Sarlat


Leave early in the morning, head south into the Dordogne region of France to visit the town of Oradour-sur-Glane.
This town was completely destroyed by the Germans, looted, burned and all the town folk killed. The French govenment have left the town as is since that fateful day, preserving it as a National Monument Memorial and a very sober reminder of war. Every French school age child visits this town on field trips.
Continue south to Sarlat, a well restored town a few kilometres north of the River Dordogne. The old town, famed for it's outdoor markets and cafes, dates from both medieval and renaissance times.
Staying at the tranquil home B&B CHAMBRES-D'HÔTES-SARLAT just outside of town.





Sept 24 - night in Carcassonne


Head SE to visit Rocamadour, a hill top sacred, ancient town situated atop a rocky plateau overlooking the Alzou Valley.

Continue S, visiting all the rural small towns along the beautiful valleys and rivers ending in the UNESCO World Heritage town of Carcassone. Carcassone is a completely walled, preserved medievel town that was an important stop along the Roman trade routes.
Staying at Hôtel Astoria located just outside one of the wall gates.




Sept 25 – night in Arles


Leave early traveling SE to the Provence Region, skirting the Mediterranean along the way. Stop in the historical Roman town of Nimes for lunch and a look at the few Roman ruins still remaining, the Colloseum and pantheon styled Maison Carré. On further W, to medieval Arles, another UNESCO World Heritage Roman ancient city along The Rhône river. The city center boasts an amphitheater arena, a Roman theater and many standing roman ruins around town. There are many sights and museums dedicated to Van Gogh. It is here he lived out his prolific art life creating most of his most famous works.
We are staying at Hôtel Regence, right by the Rhone River on the edge of town.





Sept 26 – night in Avignon


Leave early to visit Pont du Gard, a Roman Empire three level aqueduct.

Spend time in and around all the Provencal villages on our way to Avignon, the cultural capital of the Provence. It is famous for the 14th century Popes Palace. This old city is one of the most important gothic ensembles in Europe, thanks to its architectural and artistic heritage.
Staying in the 18th century Hotel Medieval in the middle of old town.

It's right about here in our trip that we had to make some big decisions. Do we now head north or go south to the Mediterranean coast of Marsallies, Saint Tropez, Cannes, Nice, and Monaco. After researching those areas, there is really nothing to see but beaches, rich people and their homes and celebrities. No thanks, we prefer the historic towns of significance with sights to actually see. We decided instead to add a few days in Belgium and the Netherlands. It turned out to be a no brainer after all - go North.




Sept 27 – night in Dijon


Head north and as time permits, we hope to visit the Roman town of Orange, lunch in Lyon, visit Beanne and end in Dijon. Dijon is the capital city of the Burgundy wine region and home to what else . . . dijon mustard. We will wander the medieval city center and Cathedral in the evening and rest a bit.
Staying at Hotel Thurot, just outside the old town walls.




Sept 28 – night in Verdun


Leave early into the Lorraine région to visit Verdun, the site of the Battle of Verdun in 1916 during World War I. The area is filled with memorials, battlefields, and forts left from that time period.
Staying at Les Charmilles B&B in the small village of Charny, near Verdun.





Sept 29 – night in Arnhem, Netherlands


We leave early heading N to visit the Belgian town of Bastogne, sight of the WW2 Battle of the Bulge. The movie 'Band of Brothers' was based on the battles fought in this area. Arrive in Arnhem, Netherlands late in the afternoon.
Staying at Sonsbeek B&B





Sept 30, Oct 1, Oct 2 – nights in Haarlem, Netherlands


This morning we travel 2 km to spend most of the day at Netherlands Open Air Museum. It is a huge, beautiful, wooded museumpark on the outskirts of Arnhem, depicting life through the ages, complete with actual buildings and demonstations of life and occupations of a bygone era.

Leave late in the afternoon, for the 1 1/2 hour trip to Haarlem. Along the way we hope to stop and see Muiderslot Castle.
And if time permits, the Vestingvaart Naarden star fort, the walled city built to protect Amsterdam during the 1500s.
Staying at Canalhouse B&B


The next 3 days, our time will be split between Amsterdam and Haarlem. Amsterdam is a short 30 min train ride right into the city center. Not only do we not want to drive into Amsterdam, but there is virtually no parking with all the canals. Our car will stay safely parked at the B&B in Haarlem.

In Amsterdam, we hope to visit:
Anne Frank House & Museum,
And no, we don't plan on visiting a "coffee shop", code words for a legal MJ smoking shop. I may peek in a window though if my curiosity gets the best of me.

Our time in Haarlem will be spent wandering the beautiful town streets, canals, catching up on some much needed rest. We'd like to visit the Corrie ten Boom house,
The Ten Boom home became a refuge for fugitives hunted by the Nazis during WW2.





Oct 3, Oct 4 – nights in Bruges, Belgium.


Up early to make our way SW to end in Bruge. Along the way we may stop in Delft, and the Dutch village Kinderdijk, home to a large windmill park. We will drive the scenic route along the coast, with many small villages, under canal car tunnels, and bridges - should make for an interesting drive. Arrive late afternoon in Bruge also known as 'the Venice of the North'. Staying at Hobo B&B.

Our 2 Bruge days are complete relax and wander, gearing up for our last days in Paris. No museums, but plenty of

BELGIAN CHOCOLATE SHOPS

! And boy do we plan on our share of sampling.




Oct 5, Oct 6, Oct 7 – nights in Paris


Oooooo, la la, Paris! Our 3 hour drive on the toll highway should go fast. We'll drop the car off at Charles de Gualle airport, buy a 4 day metro pass and train into the city. We are staying at Hotel Royal Phare, just blocks from the Eiffel tower and right around the corner from one of our favorite neighborhoods, Rue Cler. Plus it is right across the street from a metro station to wisk us anywhere in the city.


The Rue Cler is a gourmet delight for the mouth and eyes, chock full of open markets, cafes, patisseries, cheese shops, wine shops, flowers - you name it - anything you need to make a picnic lunch to sit by the Eiffel tower. It is the typical Parisian village in the center of Paris.


We plan to visit a few museums we've never seen before. Today, the first Sunday of the month, all museums are free admission. We have already spent 3 days in the Louvre on prior trips, so we will skip it this time.
We'll visit: Pompidou Center, Musée national d'Art moderne,
Musée national Picasso. We'd love to again ascend to the top of Arc de Triomphe and see Sainte-Chapelle again, but there may not be time. We'll either take a Seine River cruise tonight or on Tuesday evening.




Oct 6

- DISNEYLAND PARIS DAY!
Yeah, just gotta get our Disney fix. We've visited this park 2 other times and just LOVE it! It has all the European charm and architecture of a real village. Not to mention, we ALWAYS have a great time on the rides and seeing the shows. Nothing like hearing Buzz Lightyear speak French!

We'll hop on the RER train for the 40 min train ride through Paris to the countryside where the parks are located. Yes, parks. They opened the new Walt Disney Studios Park a couple of years ago. In fact, it was open our last visit in 10-06, but we couldn't justify the price with very little open yet. But now, they've opened quite a few attractions, so we will have a bunch of new things to see. We're buying a park hopper ticket, that includes admission to both parks. It will be a fun filled, long day, from open to close, ending with the train ride back to our hotel. Bliss!



Oct 7

- Our last full day in Paris, a walking day, exploring the Parisian neighborhoods we've not visited before. Paris has very distinct areas, or in Paris-speak, arrondissements, filled with beautiful churches, buildings, memorials and museums. We plan starting the day at the Rue Mouffetard outdoor market for breakfast and buy fixins for a picnic lunch.

On to walk Les Halles, Le Marais, Trocadero. And some repeats, Ile de la Cité/Ile St-Louis & Notre-Dame, Jardin des Tuileries. If time, more of the Latin Quarter, St. Germain-des-Pres. The Seine river cruise if we haven't done it yet.



Oct 8

- We have the morning free to laze around the Rue Cler until check out time. Our plane leaves Paris at 1:30 pm and we arrive LAX 9:30 pm.



Whew - so there you have it

!
We hope to have a fantastic vacation, looking forward to lots of adventure and hopefully all will go as planned without a hitch. We will try to update the blog and photos along the way whenever we have access. If you'd like to follow along with us on our trip, be sure to subscribe for updates.
Au revoir et merci pour la lecture ainsi.


(Bye for now, and thanks for reading along.)