9-19-08 Bayeux to Mont Saint Michel
Our drive from Bayeux to Mt St Michel was an easy 1 ½ hours , so we take our time packing and leaving at 10am. We arrive at our B&B greeted by a brown tabby named Max who wanted pets every time we saw him, we were happy to obligue. Our B&B is beautiful, just 1 mile from Mt St Michel in the little town of Bouviere. We settle in and decide to hit lunch before venturing to the 2-3 hour visit of the Mt. Found a pizza place and had a salad each and split a pizza. The pizza crust is made from a crepe, wood fire grilled in an oven and topped with tons of toppings, it was delicious and very filling, exactly what we needed.
Seeing Mont Saint Michel for the first time is an awesome sight for sure, a large abbey built atop a seemingly too small island.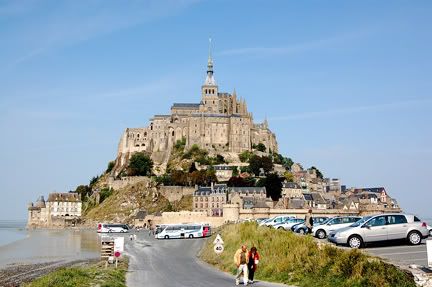 There is one main drag going all the way to the top or you can walk the wall ramparts that gradually wind around and up thousands of stairs to 300' above sea level. We got our workout today. We enter the abbey and read the fascinating history as Terry takes photos of all the unique architectural details and roof tops. There are still 30 residents living on the Mt. island itself, a few are monks. There is also a couple hotels, eateries, and a multitude of tacky, souvenir shops along the main drag that ruined the ' historical feel'. We scaled every stair case and explored every nook and cranny making sure we saw every bit of the Mt. We descended back down through the main drag and went back to the B&B to rest a bit in the back garden on lounge chairs, we both could have gone to sleep.
Photos for today.
We went back at dusk to get a few photos from afar, had a snack of fruit and crackers and went to bed.