9-21-08 Amboise
We have a delicious breakfast of baguettes with butter and homemade jams, yogurt with cereal mixed in, coffee and hot chocolate for Terry, he loved that. That is a pretty standard French breakfast only we notice the French dip their bread in hot tea.
We leave around 9am for Chenenceoux, just 19 km from Amboise. This stately hunting chateau was built by King Francois 1 and as a home for his mistress, Diane. His coat of arms are plastered everywhere you look, a fire breathing salamander and the letter F with a crown on top. Quite the egotist, if you ask me. His wife, Catherine found out about the mistress and kicked her out. She remodeled the chateau with a huge, 3 story entertaining hall that spans the river, a unique feature of Chenenceoux.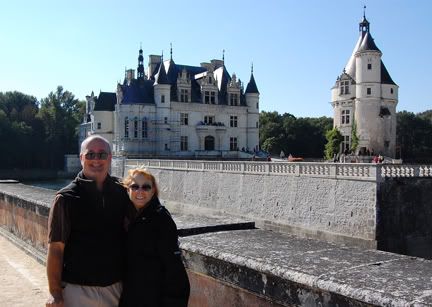 The fascinating kitchens were nothing but the best for the time including a butchery to carve all the animals after being killed, a huge pantry room to store supplies for the winter months, a servant dining room and lastly the gigantic kitchen with ovens and stoves. Just awesome, especially decorated with time period copper pots and pans, unusual utensils, and unknown to us type tools and contraptions, I guess used for carving. There was even a large copper pot with a snout protrusion to roast pigs.
The red velveted bed chambers oozed of gold and wealth as do most palaces. The cornices, crown mouldings, and full wall tapestries were extremely ornate showing animals and hunting scenes.
The surrounding gardens next to the river were gorgeous and perfectly symmetrical as were all gardens from the time. Our walk back to the car took us through a tunnel of shaded trees. We bought a baguette sandwich from the vendor at the entrance and had a picnic with other goodies we had stashed in our snack bag in the car.
The next stop is a feudal castle and town called Fougers.
We arrive about 1:00, to find it closed for lunch until 3, hmmmm, a tourist sight closed for lunch? We take some outside photos and move on to Cheverny, about ½ hour away. Again, we only take outside photos and walk the cute town, knowing we need lots of time to see our last stop, the grandest of all chateaus, Chambord.
Again, seeing Chambord for the first time, with it's shear size and varied rooftop turrets, unusual chimneys and roof lines is overwhelming.
We walk around the chateau as Terry clicks photo after photo. The place is mind boggling huge. We enter the courtyard, to find a rather plain, gravel filled entrance, through the massive stone arch doors to see a double helix spiral staircase, most likely designed by Leonardi Da Vinci. The historians and not real clear, but it has his earmark all over the design.
Francois 1 was also behind the beginning building of Chambord, to have an even more stately hunting lodge than Chenenceoux. His trademark salamander and F crown grace this chateau as well. Building stopped and started on Chambord for a century because of wars, deaths of kings, and sat empty and abandoned for 70 years! It was finally restored, bought by the French govt. and is now a historical monument.
We walked up each flight of stairs, seeing all the royal bed chambers, drawing rooms, salons, yada yada and all the other rooms the royality just had to have for this reason or another. They really knew how to be self indulgent, never ceases to amaze me even as many palaces all over Europe that we've seen. We finally climb the last bit of helix stairs to the roof top, Terry's photo heaven. We descend back down, going in circles what seemed like forever, making me somewhat nauseated.
More photos from today.
We leave Chambord and head back to Amboise just knowing we NEED a decent dinner tonight. We've been running on empty and grabbing food when we can. We find a small restaurant that opened at 6:30, so we waited the few minutes. Terry got the Lasagne salad special and I got chicken, mushroom, artichoke, and gorgonzola pizza with a salad on top! Very unusual but so good. We were famished and ate like we never had before. We also had a glass of Amboise rose wine which was very good.
Full and happy we went back to the B&B, turned on the French TV to see some 60s show called Cosmos 99 with Martin Landau and Barbara Bain, French dubbed in - hilarious! We literally flopped into bed at 9pm.